Hutchinson Family Collection
Major Joseph Sykes Hutchinson, Civil War veteran, moved to the upper Arkansas Valley in 1866. He established the oldest family-owned working ranch in Chaffee County. It is now the present-day location of the Hutchinson Homestead Ranch on Highway 50 between Salida and Poncha Springs. Major Hutchinson was superintendent of the Cash Creek Placer and kept ledgers of these proceedings. One of these ledgers is the Cash Creek Ledger dating from 1862. Another is his Cattle Accounts Ledger, dated 1866.
Major Hutchinson died May 16, 1882. His obituary appeared on May 20 in the Mountain Mail, transcribed here:
Death of Joseph Hutchinson:
About nine o'clock this (Tuesday) morning word was received that Mr. Joseph Hutchinson had died at his home on his farm three miles west of Salida at half after seven o'clock this morning. Just what the immediate cause of his death was is more than we have been able to ascertain. For a long time, Mr. Hutchinson has been suffering with neuralgia in his head and face. This has extended back several months. During the last few week he has been kept at home part of the time on account of these troubles, the pains at times being very severe. It appears that during the last few days these pains have been most severe about the base of the brain.
Mr. Hutchinson, or "Jo Hutch" as he has been familiarly called, has lived in this valley about seventeen years. He was born in Dearborn County, Indiana, about forty-five years ago. He was early left an orphan and was raised in the family of an uncle by the name of Hall. Soon after the breaking out of war, he went into the service, being mustered in as a lieutenant, and served faithfully until the close of the war, being with Banks on the Great Red River expedition. He was a Republican until the split between Andy Johnson and Congress, at which time he followed Johnson's fortunes and remained a Democrat to the day of his death.
In 1863 or 1866, he came from Indiana to this valley as the agent of Bailey & Gaff to take charge of their stock interests. Since that time he has lived in this valley, part of the time engaged in mining enterprises but generally largely interested in stock. He has made and lost one or two fortunes in cattle, but has not for over a year paid much attention to business other than farming.
Mr. Hutchinson has held different official positions. In 1878, he was elected to the lower House of the Legislature by a small majority, and we believe that he had once previous to that time been a member of the Territorial Legislature. At the time of his death he was one of Chaffee County's commissioners, having been elected to that position last November by a flattering majority.
Though Mr. Hutchinson had some enemies, as all men with decided opinions and resolute will must have, he has a host of friends in this valley who with the widow and children earnestly mourn his death.
Annabel died 34 years later, in 1916. The following is transcribed from the Salida Mail, March 31, 1916:
Typhoid-Pneumonia Takes Old Pioneer After 7 Weeks Illness.
Mrs. Annabel Hutchinson died at her home March 28th at 2:20 p.m. of typhoid pneumonia, after an illness of several weeks. She was attended of Dr. McClure and a trained and skillful nurse. Her four sons and her brother, J.D. McPherson were at her bedside.
Mrs. Hutchinson, the only daughter of John and Helen McPherson, was born March the 16, 1848, at Rigo, Monroe County, N.Y. In 1859, Mr. McPherson with his family moved to Michigan, from thence to Wisconsin the same year and in 1860 joined the Pikes Peak gold excitement, crossing the plains in an ox wagon which at that time was the safest way to travel owing to hostile Indians.
The first point of civilization to be reached was at Canon City, where they remained until the spring of 1861, finally reaching their destination at California Gulch, now Leadville, the fame of which had reached to every part of the country as a rich gold placer mining camp and had a population of several thousand people from all parts of the globe, a refuge of safety during the struggle of the civil war. It was here that Mrs. Hutchinson, with her parents and two brothers, Henry R. and John D. Jr., spent five years of her happy girlhood surrounded by the snow capped mountains, dotted with evergreen pine, the home of the beautiful Columbine, which was her delight. Her father, born in New York of Scotch parentage, a leading citizen. Her mother born in Edenburg, Scotland, a Christian woman of extraordinary talent and refinement, gave to their children every advantage that good breeding and thorough tutorship could give and thus their daughter developed to be the pride of her family and the light of her friends.
The happiest period of her life was her marriage October the 15, 1868 to Joseph Hutchinson, of Rising Sun, Indiana, captain of Co. D. 18th Indiana Volunteers Infantry. Mr. Hutchinson was engaged in mining and merchandise at the time of their marriage; later he turned his attention to cattle business and was one of the largest cattlemen in this section of the state. He was well known in political life. In 1873 he represented Lake, Saguache, Park, Fremont, and San Juan counties in the territorial legislation. At one time he was a candidate for the senate. In 1879, he was again elected to the legislature. He was in the session that divided Lake and formed Chaffee County. He was born in Delaware, December 31st, 1840. In 1874, he located what is now known as the Hutchinson ranch, where he died in 1873.
Since that time, Mrs. Hutchinson has resided constantly on the ranch, raising their four sons to mature manhood, her life being a model of all that is to be desired in female character.
She was a member of the Presbyterian church and was superintendent of the Poncha Sabbath school for many years and a member of the board of education for eight years, a woman true, pure, interesting, and gentle who will live in the memory of old and young.
Funeral services were held at the Poncha church at 2 o'clock p.m., Thursday the 30th, conducted by Rev. Clark of Salida. Interment was made at Poncha cemetery, where her husband is buried, also her mother, who died February 6th 1883. Her father having died in California and was buried at Odd Fellows cemetery at Syracuse in 1882.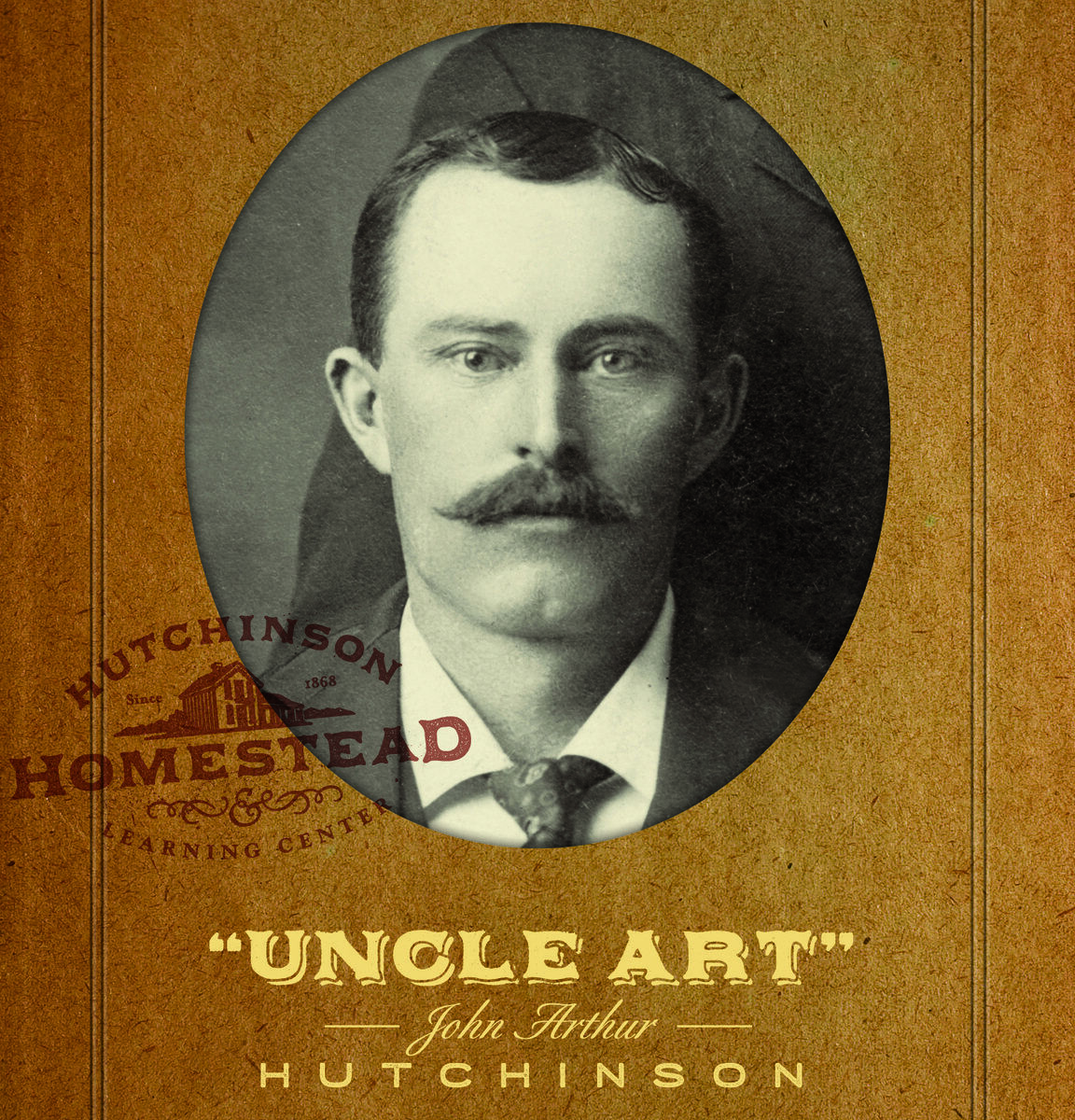 Art Hutchinson kept diaries all of his life, mostly detailing his work around the farm, trips to Poncha Springs, and the weather. He used ledgers that his father had discarded, so some pages detail cattle accounts written out by Major Hutchinson. The Salida Library has Art's ledgers from 1898-1899, 1904-1906, 1923-1925, 1927-1931, & 1946.
Annabel, Art, Joseph, Gertrude, & their son Mills, and Bailey at the Hutchinson Ranch.
Joseph Hutchinson died Monday, April 2, 1934. The following is his transcribed obituary from the Salida Mail, April 3, 1934:
Joseph M. Hutchinson, Victim of Pneumonia.
Following an illness of but one week, Joseph Mills Hutchinson, a pioneer resident of this territory, died at 11 o'clock  last night at the Rio Grande Hospital. Mr. Hutchinson had been employed as timberman at the London Mine at Alma and came Saturday night to spend a few days with his family at his home on Rainbow Boulevard. He was taken ill of flu Tuesday morning, the day he was to return to the mine. He was taken to the hospital. Pneumonia developed and caused his death.
Mr. Hutchinson was born on July 2, 1877, on the Hutchinson ranch on Rainbow Boulevard and had resided in this vicinity since that time. He was married in 1910 to Miss Gertrude Durhsen at Poncha Springs. At that time, Mr. Hutchinson was employed on the second Division of the Rio Grande Railroad and they made their home in Minturn, Colo.
Mr. Hutchinson had been employed as an engineer on the railroad here for many years and was later elected sheriff of this county. He held this office for three terms. H also held the office of Chief of Police in Salida.
Mr. Hutchinson was a sterling citizen and highly respected by the people of Salida and all those who knew him. He leaves many friends and acquaintances. He was a member of the Masonic Lodge at Minturn, Colo.
Mr. Hutchinson was the son of Joseph Hutchinson, one of the oldest pioneers of this territory. Mr. Hutchinson helped erect the court house at Buena Vista and his name appears on the building. He and his sons are widely known cattlemen and ranchers.
Those left to mourn his loss are his wife, Mrs. Gertrude Hutchinson, a daughter, Miss Annabelle, and a son, Arthur, both of whom are attending Colorado Agricultural College in Fort Collins, another son, Joseph D., 24 copilot for the United Airlines flying between Salt Lake City and Cheyenne; three brothers, J.A. Hutchinson and Bailey Hutchinson of Salida, Harold C. of Pueblo and two nephews, Mills Hutchinson of Salida and Harold Hutchinson, Jr., of Pueblo.
Miss Annabelle Hutchinson and Arthur have been in Salida for the past few days.
No funeral arrangements have been made awaiting the arrival of his son, Joseph, of Cheyenne, and his brother, Harold, of Pueblo. Burial will be in the Poncha Springs cemetery.
Arthur Hutchinson died January 18, 1950. The following is his transcribed obituary from the Salida Daily Mail-Record, January 19, 1950:
Arthur Hutchinson Passes Away Wednesday.
Arthur Hutchinson, well-known Chaffee County rancher and cattleman passed away at 3o'clock Wednesday afternoon at his ranch home on Little River. He had been in failing health for sometime but his death was unexpected.
Mr. Hutchinson, who was an integral part of the Old West and lived to see it pass, was the oldest of four sons born to the late Mr. and Mrs. Joseph Hutchinson, pioneers of Lake and Chaffee counties. His mother, nee Anabelle McPherson, arrived in Colorado by ox cart in the fall of 1860. His father came to the county shortly after the close of the Civil War.
Born Nov. 16, 1870 in a log cabin on what is now the Charlie Brown place at Poncha Springs, he was one of the oldest native born residents of the county.
In recalling events of the covered wagon era, he often told his friends that the biggest changes in this valley came into existence after the railroad reached Salida in 1880 when people arrived in numbers.
Since 1873, he and his only surviving brother, Bailey Hutchinson, have resided on the Hutchinson ranch on Little River, which their father, a Civil War captain, purchased in 1868. As cattlemen, the two men kept alive the traditional heritage of the days when their father ran hundreds of head of cattle in South Park and the San Luis Valley.
Many outstanding persons enjoyed the hospitality of the Hutchinson home in the Old Days. Among them was the famous Shavano, chief of the Utes. In speaking of incidents of 'those years' as if they were only yesterday, Mr. Hutchinson called back in memory the way Shavano's warriors lined up with arms folded in front of their home to gaze at the newly constructed house, the like of which they had never seen.
As the result of an old leg injury, Mr. Hutchinson had been unable to ride for several years. He was able to assist in the directing of the management of the ranch and in spite of his handicap, he remained alert and enjoyed the daily visits of the old friends, who never seemed to forget him.
Mr. Hutchinson was a member of the B.P.O. Elks No. 808, having joined the organization 40 years ago.
Survivors, besides his brother, Bailey, are a niece and the following nephews: Harold Hutchinson, of Joplin, Mo., Joseph Hutchinson, of Denver, who is a pilot for United Airlines, Arthur Hutchinson, head of the United Airlines Airfield at Redwood City, Calif., and Mrs, Anabelle Dikeman, who recently arrived from Tokyo, Japan.
In addition, he is survived by three great nephews, Jake and Joseph Hutchinson of Salida, and Dr. Wendell Hutchinson of Gunnison.
Funeral Services will be at 2 o'clock Saturday afternoon, the place to be announced later.
Bailey Hutchinson died December 10, 1950. The following is his transcribed obituary from the Salida Daily Mail-Record, December 11, 1950:
Bailey Hutchinson, Pioneer Rancher, Passes Away.
Bailey Hutchinson, a pioneer resident of Chaffee County, passed away at 6:00 a.m. Sunday at Woodcroft Hospital in Pueblo, where he had been a patient since November 7.
Mr. Hutchinson had suffered several paralytic strokes, the first one being June 15, 1943, and they are given as the cause of death. In spite of these attacks, he had been active in managing the ranch on which he made his home until a few months ago when he became confined to the hospital.
Mr. Hutchinson was born seventy-eight years ago on October 27, 1872 in a log cabin at the mouth of the Little Cochetopa, a few miles above Poncha Springs. [The family] came to live on the present Hutchinson ranch site in the old home place which was erected in 1873. He spent his life there, haying, 'punching' cows, irrigating, harvesting, and helping his neighbors. He served as local brand inspector for over fifty years.
Friends all over the county will miss him for his kindheartedness, honesty, and goodness. With him passed an integral part of the Old West, its ways, customs, and people. During his life, he could remember the colorful Ute Indians — Shavano, Ouray, Colorow, and Chipeta, and their visits and customs; the trail herding of cattle; the advent of the railroad, airplane, auto; the fall roundup of cattle; open ranges, and the closure of forests which he opposed bitterly to the last.
His father, Joseph S. Hutchinson, a captain in the Civil War, came to Colorado territory shortly after the war and engaged in mining and ranching. His cattle grazed over Park and Chaffee Counties on river bottoms that are now ranches. There being no railroads here then, he trail-herded to Las Animas and later to Denver. He sold most of his cattle prior to his death in 1882 and left his wife Anabell, with four children: Arthur, Bailey, Harold C., and Joseph M. with the original homestead the present site of the Hutchinson ranch.
Bailey's mother, Anabell McPherson, crossed the plains with her folks at the age of twelve and settled first in 1860 at California Gulch, now Leadville, during the early gold strikes there. She married Joseph S. in 1870 and lived on the ranch until her death in 1916.
Bailey is preceded in death by his three brothers, Joseph M., the youngest, who passed away in Salida in 1934; Harold C. died in Pueblo in 1945; and Arthur, the eldest of the four boys, passed away in January of this year. Bailey and Arthur were unmarried.
He is survived by three nephews, Joseph D. of Denver; Arthur M. of Redwood City, California; and Harold L. of Joplin, Missouri. Also, one niece, Mrs. Anabell Dykeman, of Washington D.C., and six great nephews: Dr. Wendell Hutchinson, of Salida; Jake Hutchinson of San Mateo, California; Joseph of Salida; Robert of Joplin, Missouri; Arthur of Redwood City, California; Joseph Dykeman, of Washington D.C.; and one great-niece, Mary Ann Dykeman, also of Washington D.C.
The Hutchinson-Burnett Cabin is located near the top of Marshall Pass. The camp, located about 25 miles west of Salida, was originally a seasonal residence for cowboys working the Hutchinson Ranch. Bailey Hutchinson frequently wrangled livestock around the Poncha Pass area with Bert Burnett and they jointly built this cabin about 1935 using spruce logs from the forest. Dr. Wendell Hutchinson stayed here occasionally as a boy.
Wendell F. Hutchinson, great-grandson of Major Hutchinson and grandson to Harold, practiced veterinary medicine in Chaffee County and the surrounding area. He kept diaries for most of his life. The Salida Library has Wendell's diaries for the years: 1945, 1948, 1952, 1953, 1973, 1982, 1991 and his ledgers for the years: 1950, 1954, 1955, 1956, 1957, 1958.
The following images are from the Hutchinson Family Photo Album. Those that are unnamed may be members of Mary Sue Hutchinson's (nee Swallow) family.