History of Salida Schools & Chaffee County Schools
Birth of the 'S' on Tenderfoot
In September 1924, the Salida High School senior class went up Tenderfoot and placed whitedwashed rocks in position so that they read '1925' and were visible from town.
"Salida awoke Saturday morning to an unexpected view of Mount Tenderfoot. The number '1925' stood out on the hillside in bold relief. Painted white rocks had been used in designing the figures. When the underclassmen of the Salida High School rubbed their sleepy eyes and saw that number, there was war a-brooding. 'It must come down tonight,' said one junior to another. 'No, you are wrong. It must come down immediately,' was the reply. Henry Hay had hardly completed taking a picture of the number from F Street when the rocks were scattered in all directions by the underclassmen. And there they lie." — Salida Mail Sept. 23, 1924
The following appeared in the Salida Mail, February 5, 1926:
'Five seniors were dismissed from school yesterday by the faculty, because they absented themselves to put markings on Tenderfoot Mountain.
It can be presumed that whitewashed rocks were placed so that they read '26.' By 1927, it was becoming a tradition: SHS seniors and juniors entered the American Legion contest, with the winners having 'the privilege of erecting their class figures on Tenderfoot Mountain.' — Salida Mail, March 1, 1927.
The letter 'S' (standing for 'Spartans') on Tenderfoot Mountain was built in 1932 by the senior class at the Salida High School. On March 1, 1932, the Salida Mail newspaper reported:
'Permanent Letter to Be Erected on Tenderfoot. The senior class at the high school, the largest in the history of the school, voted unanimously to adopt a suggestion to put a permanent letter on the side of Tenderfoot Mountain. According to the present plans, the letter will be built by the members of the class and will be such size as to be visible for miles around. A block letter "S" about eighty feet in height will be built and will be white washed by the freshmen class each year.'
1932 SHS Senior Mervin Aude was President of the Math and Science Club, and was a member of the Library Club, Debate Club, and Dramatic Club. Mervin was given credit by his classmates as being the instigator behind the building of the 'S' on Tenderfoot. At a later reunion, he was given special mention in the program notes.
Building of 'S' timeline, from the Salida Mail, March & April 1932:
This was Salida High School's literary magazine from 1909 to 1912, a precursor of the Tenderfoot Times and the Le Resume yearbook. May issues feature Senior classes.
Salida High School's unofficial mascot – The Purple Doom – was the brainchild of Pueblo Chieftain sports writer Dave Soccier; Salida High School art teacher Rod Farney gets the credit for creating the look of the 'Purple Doom' in the mid-1970s.
The Grape Crush was the Salida High School Spartan defense, echoing the Orange Crush that was a popular nickname for the Denver Broncos defense.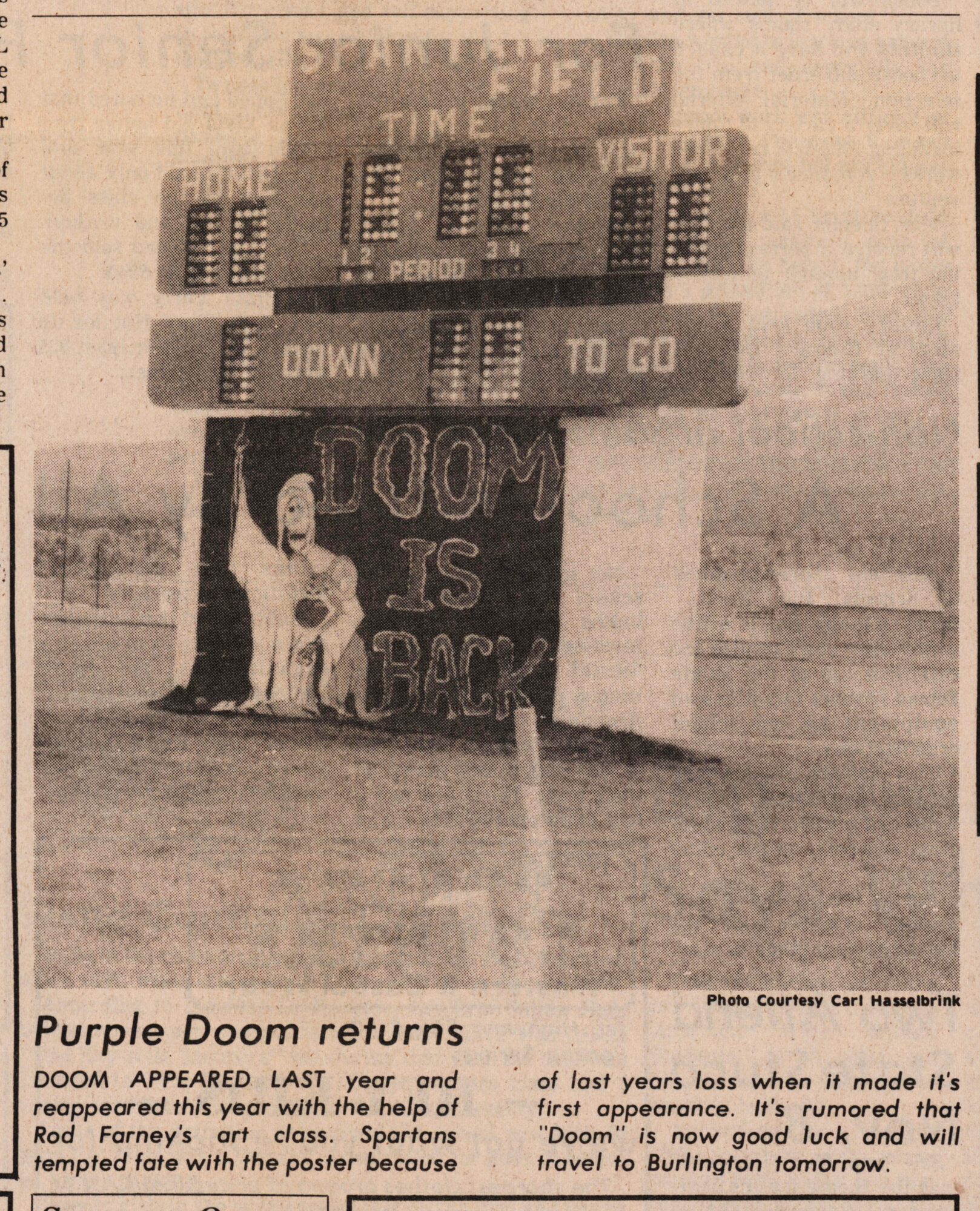 Tenderfoot Times Nov. 19, 1976